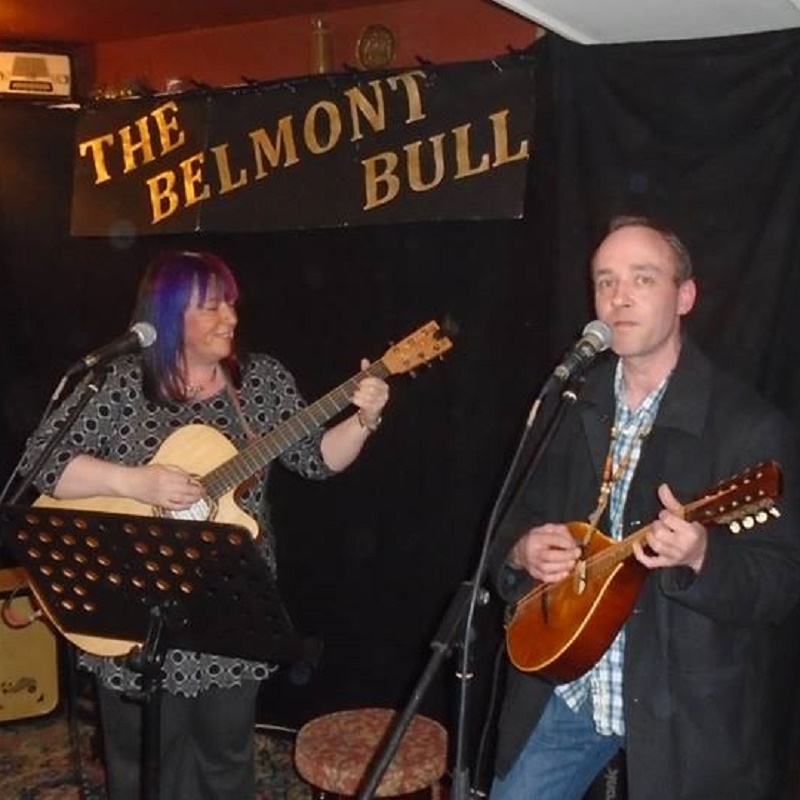 The ImprompTUNES are an Acoustic rock pop duo who perform an eclectic mix of music. They are Jonny Shock and Joanne Holt
What's your name and where are you from? 
We are an acoustic duo called The ImprompTUNES, individually we are Jonny Shock and Joanne. We are from a small town in the North West called Ramsbottom 
What is your local folk club or place you regularly perform? 
We host a couple of open mics locally around Ramsbottom at the Irwell Works Brewery and The Shoulder of Mutton 
How did you get into folk music?  
The festivals have drawn us into the folk circle.  We love performing and the folk festivals are always the friendliest and most welcoming, especially the singarounds, even though we are not traditional folk. 
Who is/are your folk and/or musical inspiration? 
We like a vast array of different styles from Neil Young, David Bowie, Metallica.  Jonny has a particular obsession with Jake Thackray and greatly admires his style of playing and what a fantastic lyricist. 
What is your favourite song/piece from your set? 
Favourite one tends to be whatever new song we are learning, I'd say two favs at the moment The Metallica one For Whom the Bell Tolls we cover on the glockenspiel, love it for it's quirkiness and Fleetwood Macs Big Love which I really enjoy watching Jonny play 
Who are you most looking forward to seeing at this year's folk festival? 
That's difficult to answer as we are not local and don't really know the bands.  we are going to try and see as much variety over the three days as possible and I like the look of the Publicans 
Tell us about the best gig you have ever been to? 
Went to watch James Taylor in Hyde Park last year but, rather oddly, the favourite bit was Shawn Calvin on one of the smaller stages 
Choose a Christmas song? 
The Ouse Valley Singles Club – Christmas Solo – very funny but don't play it if there are younger or sensitive ears around 
If we were to buy you a drink (I'm not saying we will but…) at the festival what would you want? 
That's easy Jonny would have larger and I would have Southern Comfort on ice with a slice of lime 
 Where can we find you? (social media/you tube / band camp/ gigs etc) 
www.theimpromptunes.com the play list page has lots of links to videos 
https://www.facebook.com/theimpromptunes/ 
Jonny Shock is a talented guitarist and singer whose attention to detail is greatly admired. He picked up the guitar when he 14 but drifted away from his musical love for a while and returned to it with a passion a few years later. His early musical influences were Nik Kershaw, Beatles, Rolling Stones, The Kinks and Neil Young not forgetting Led Zeppelin, Deep Purple and The Who. Jonny has played in many different bands mainly heavy rock based. As his musical tastes have matured he is now acoustic based driven in this direction mainly by The Who and in particular Pinball Wizard. He greatly admires James Taylor, Crowded House and the Finn Brothers. Jonny has a repertoire of over 200 songs and can cater for most occasions. If you want to catch Jonny live he regularly hosts open mics in the Ramsbottom area and loves to see new talent developing. He can also be seen performing Irish, rock and pop with his friend Pete Banjo and Baz Sax (who plays bass) in Tres Amigos.
Joanne always astounds with her rich vocal talent. She is rather a late comer to the guitar having only started playing around 10 years ago as a means of avoiding the curse of karaoke and backing tracks! She has a deep passion for live music and has a varied musical influences Her early days were involved in the more 'diva' and cabaret type singing and she also had some involvement in musical drama. However her musical tastes have matured and learning the guitar has had the largest impact on that, initially if it was three chords and she could play it she loved it ! as any guitar newbie would tell you. Obviously over 10 years her playing is much improved and she now provides a stable background of music for Jonny to weave his magic on. Together Jonny and Joanne perform a fantastic mix of rock pop covers not from the usual play list and produce some great harmonies together. More recently additional instruments have been added to the set with Jonny on Mandolin and 12 string guitar and Joanne on Ukulele and glockenspiel.
Joanne can also be seen with her folk band the Saggy Bottom Girls.
https://www.theimpromptunes.com