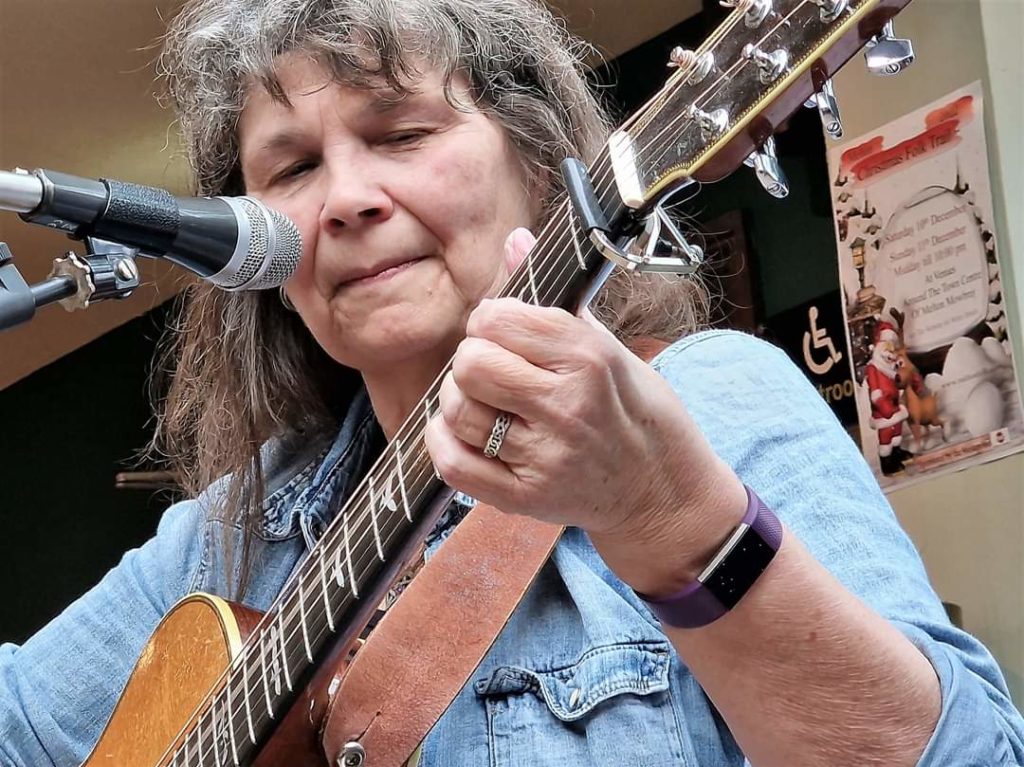 Contemporary & traditional songs – beautiful voice.
Folk Trail Feature on Sheila Mosley
What's your name and where are you from?
Sheila Mosley, Yorkshire stock, born in Zimbabwe, living in Leicester
What is your local folk club or place you regularly perform?
TABAC folk club in Thurnby on 1st Sunday's, and Geese and Fountain in Croxton Kerrial on 2nd Sundays. It's been an eventful year so I've not got out as much as before. We do love Melton Folk Club when we manage to get there. (we love you too, Sheila!)
How did you get into folk music?
My Mum bought me a Donovan record when I was a teenager, and I bought a guitar aged 15 (I'm now 65) and was knocking around with three friends, who were that bit ahead of me.
Who is/are your folk and/or musical inspiration?
I listened a lot to Pentangle, Bert Jansch, James Taylor, Sandy Denny, Steve To Latin, Al Stewart, Roy Harper etc in the early days.
Lots of people have been an inspiration including Dick Gaughan, Pete Morton, Norma Waterson, Dougie Maclean, and of course Pete Burnham who I sang with for years
What is your favourite song/piece from your set?
Difficult to say, because it depends on the mood and political climate. Ralph McTell's Streets of London has always been a favourite, because it tells a story about homelessness, and people join in which is wonderful, also Mick Ryan's Love is Life, which tells quite pragmatically of the cycles of life ending in new life.
Who are you most looking forward to seeing at this year's folk festival?
Definitely Bob Dayfield.
Tell us about the best gig you have ever been to?
The Voice Squad at Cleethorpes Folk Festival many years ago was an out-of-body experience.
Choose a Christmas song?
Rolling Home by John Tams– it mentions workers slogging it out through the winter, but being strong together and has a brilliant chorus
If we were to buy you a drink (I'm not saying we will but…) at the festival what would you want?
Coffee would be nice as I'm driving – a vegan latte with Oatly barista milk
Where can we find you? (social media/you tube / band camp/ gigs etc):
http://crowspirit.org.uk is my website where I throw things that I am interested in, when I remember, and there are some songs on there. I'm on Facebook, have Youtube, and there are as number of videos in the internet. CivicLeicester has uploaded quite a lot over the years.
https://www.facebook.com/sheila.mosley?epa=SEARCH_BOX