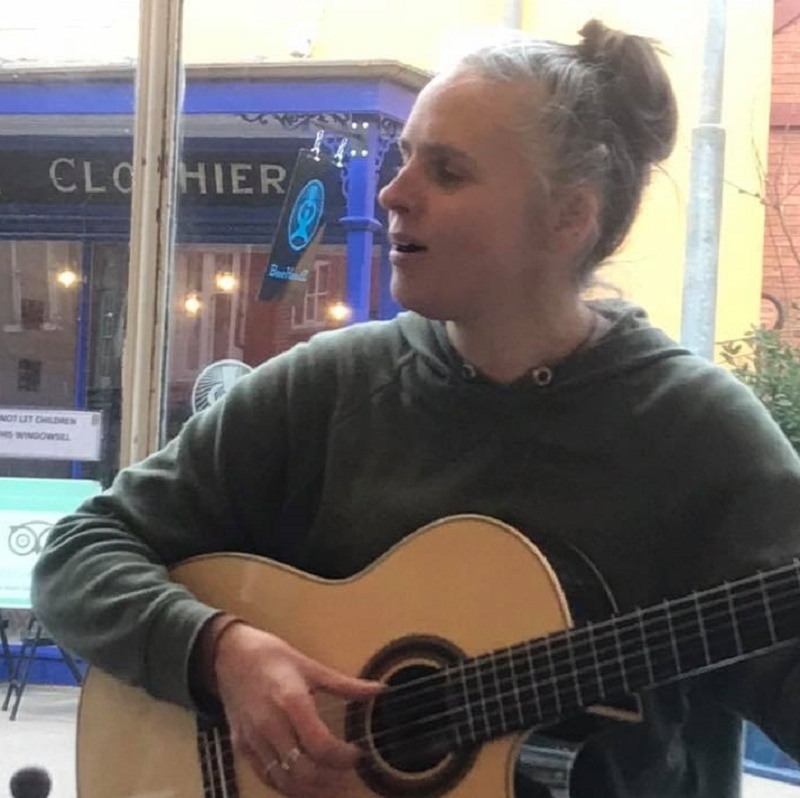 Singer songwriter – guitarist – contemporary folk artist from Belper
What's your name and where are you from?
Sarah Hinds. I live in Belper, Derbyshire and a lot of my songs are about the history and landscape of this area.
What is your local folk club or place you regularly perform?
I don't really have a regular folk club that I play at but my favourite one locally is the folk club at the Nelson Arms at Middleton by Wirksworth.
How did you get into folk music?
I got into folk music originally by listening to Folk Waves on radio Derby when I was a teenager. I learnt the songs off the radio as I didn't know that folk clubs existed. I moved to Norwich as a student and discovered folk clubs . at that point there weren't many young people involved in folk so I stood out a bit with my pink hair. I went on to busk acapella folk songs and started writing my own about 5 years ago.
Who is/are your folk and/or musical inspiration?
I like Rory McLoed, Karin Polwart and Lisa Knapp but am influenced by all kinds of music.
What is your favourite song/piece from your set?
Different favourites on different days. If it's not too cold to play it I enjoy playing 'The Walled Garden' off my CD with the flamenco section in it. Recently I've also liked to sing unaccompanied songs like ' The Bold Young Nailer' or 'Bullsmoor Lament' and am thinking of getting a shruti box or something else to give a drone sound.
Who are you most looking forward to seeing at this year's folk festival?
I hope I'll see Kevin Hewick play as I met him at the folk festival when he played before me in a cafe. He came over to play a couple of gigs for me in Belper and I particularly enjoyed his set at Arkwrights
Tell us about the best gig you have ever been to?
I most enjoyed seeing Seize the Day when they played at the Seed Festival this summer. I love their energy and integrity.
Choose a Christmas song?
I don't really like Christmas songs but if I had to choose one I'd probably go for the 15th century song Adam Lay Ybounden
If we were to buy you a drink (I'm not saying we will but…) at the festival what would you want?
I'd like some mulled red wine or ginger wine but will be driving home so ginger beer will do.
Where can we find you?
My website is
www.sarahhinds.wordpress.com
Facebook
https://m.facebook.com/sarah.hinds.391
Soundcloud
https://m.soundcloud.com/sarah-hinds-4/beautiful-1
https://www.facebook.com/sarah.hinds.391?epa=SEARCH_BOX