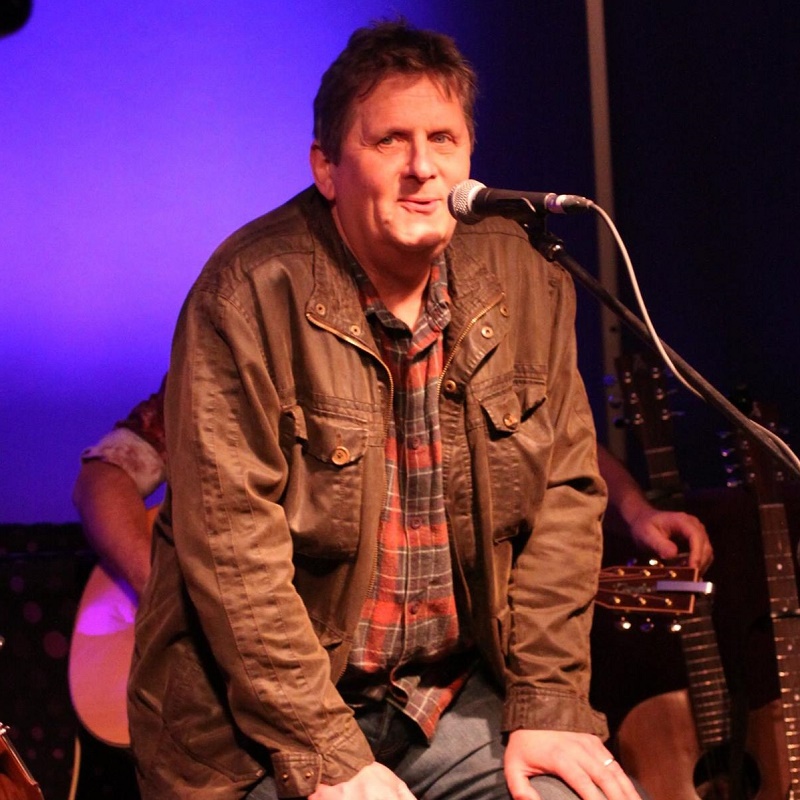 Solo Guitarist/vocalsit.   Mike Weaver is a singer-songwriter originally from Cheltenham, but now living in Worcestershire. He is a writer and illustrator by day and an acoustic performer by night, presenting his own material which draws upon both contemporary and traditional influences.
After a break of many years, Mike returned to songwriting and performing in 2013 and released a CD of original songs spanning three decades in August 2014.
Since his 'come back' he has played at a variety of events across southern England and the Midlands, and has been ranked as high as number two in the Reverbnation UK Folk Charts.
He has supported Irish prog folk duo Tir na nOg, Jennifer Crook, Ange Hardy & Lukas Drinkwater, Breton 'power folk' star Dom Duff and the legendary Steve Ashley as well as performing his own solo shows.
Festival appearances include Lechlade, Coffin Folk (part of Birmingham's Jewellery Quarter Festival), Mitcheldean Folk Festival and The Almonry Folk Weekend in Evesham.
Mike's CD 'The Others' was launched in early 2016, and tracks from it have received radio play on folk music stations in the UK, USA, Canada and Australia. A single from the album, 'Pembrokeshire Fair', was included on Acoustic Magazine's cover CD and distributed nationally in May 2016. An EP of four new songs – The Humming Days – was released in May 2017.
For more information and to hear Mike Weaver's music, visit www.mikeweavermusic.com
Folk Trail Feature on Mike Weaver
What's your name and where are you from?
Mike Weaver: born in Cheltenham, but I live in South Worcestershire now. Bredon Hill – an outlier of The Cotswolds.
What is your local folk club or place you regularly perform?
I live in a rural area, where there is no local Folk Club. I do perform regularly in Gloucestershire and Worcestershire, but also travel further afield to play at festivals and in theatres, and have opened for quite a few well known artists on the contemporary folk circuit. That sounds a bit pretentious – sorry!
How did you get into folk music?
I got into folk music when I was at school in the 1970s. I bought the Island Records 'sampler' album 'El Pea', which had a track from every artist signed to their label. I found myself drawn to the 'new folk' artists featured on it.
Who is/are your folk and/or musical inspiration?
Many. James Taylor, Jim Croce, Ralph McTell, Stephen Bishop, Steve Ashley from way back. Singer-songwriters rather than traditional folk.
What is your favourite song/piece from your set?
That's a difficult one. Often the song I have written most recently. So today that would be 'Finding Hilcot' from my new CD (Sept 2019). It's had a bit of radio play too. So I suppose I am plugging it
Who are you most looking forward to seeing at this year's folk festival?
Steve & Julie Wigley. I've come across them a few times on the road over the last couple of years. Lovely people and engaging performers. Julie writes interesting songs, too.
Tell us about the best gig you have ever been to?
My own? Probably supporting O'Hooley & Tidow. Generally, too many to single one out – not necessarily folk, either. Cindi Lauper and Alison Moyet were terrific. Buffy Sainte-Marie was unforgettable – as was James Taylor. But Kings of Leon (about five years ago) and Family (1970s) knocked my socks off!
Choose a Christmas song?
Have yourself a Merry little Christmas. Always my favourite. Bella Hardy's version is heartfelt.
If we were to buy you a drink (I'm not saying we will, but…) at the festival what would you want?
I don't drink when I'm driving, but thanks for the offer. If you're putting me up, I'll have a glass of Merlot.
Where can we find you? (social media/you tube / band camp/ gigs etc)
I'm on all the usual channels, (except Bandcamp) but everything I'm up to (or have been doing) is on my website, which is: www.mikeweavermusic.com
(Not to be confused with the American Christian Rock singer Mike Weaver. He's younger than me, so I'm the original!)
https://www.facebook.com/mike.weaver.1806