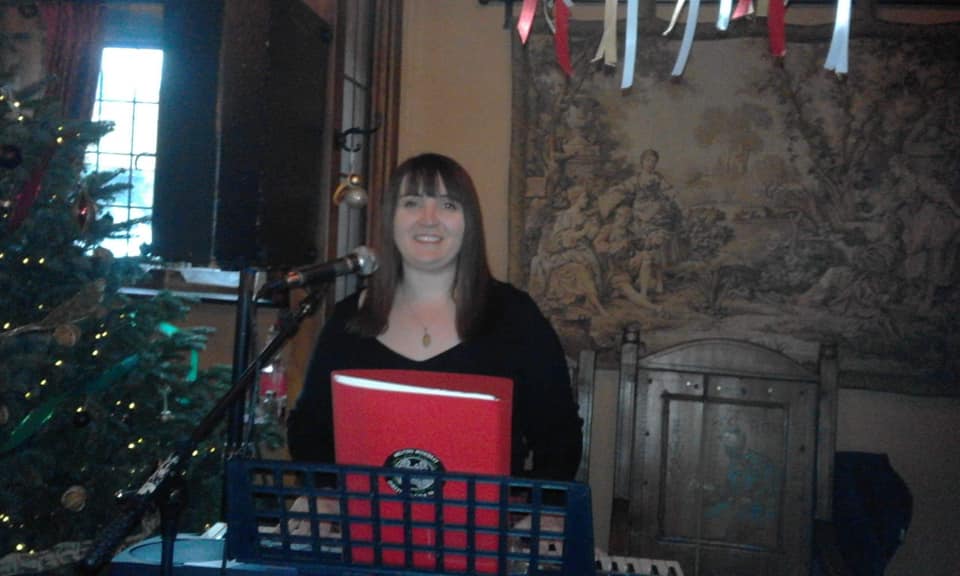 Singer / songwriter. Piano / vocals
The last gig of each day Josie will be performing with Adrian Kerr and Robert Thring from Extinction Road
What's your name and where are you from?
Josie Allen and I am from Nuneaton, Warwickshire, but now live in Melton Mowbray.
What is your local folk club or place you regularly perform?
I am a regular at Melton Folk Club (every Wednesday Night 730pm upstairs at The Crown)
How did you get into folk music?
I've always been a writer, and for years I have mainly performed as a poet at open mics and festivals across Coventry and the West Midlands.
A friend of mine was a big Seth Lakeman fan and I took her to see him play at the Rhythm Rooms in Nottingham and he was fantastic. Then she took me to see Bellowhead at the Barbican in York and a few more folk albums made their way on to my Ipod.
Then I moved to Melton, where there is a great folk club and fantastic folk festivals, and was welcomed in the fold and now I am a confirmed folkie.
Who is/are your folk and/or musical inspiration?
I really like The Unthanks and Bella Hardy. They create a great sound and write their own music, as well as performing traditional folk songs.
They tell stories with their songs, which I like to think I do too.
What is your favourite song/piece from your set?
The Old Sage Cross is my favourite song that I play. I read a book called The Folklore of Leicestershire and Rutland by Roy Palmer, who incidentally was also a big collector of Folk Songs, and it had a section about the markets in Melton Mowbray being marked by different crosses across the town. The Herb Market was at the Sage Cross and inspired me to write this song.
Who are you most looking forward to seeing at this year's folk festival?
After reading her interview I really want to see Becky Foord, she sounds like she will be right up my street.
Also from seeing them play at previous folk festivals I would highly recommend checking out The Secret Magpies.
Tell us about the best gig you have ever been to?
Bellowhead at the Barbican were amazing, as they create such a wall of sound and their set is really high energy.
But I think the Seth Lakeman show I mentioned earlier beats it, because it was just more intimate and anyone who can play the fiddle and sing that well at the same time has my vote.
Although I once saw a Mexican Ska Band play at the Academy in Islington and the Trombone player led the crowd in a conga around the mosh pitt, which was pretty memorable.
Choose a Christmas song?
I was going to choose River by Joni Mitchell but, as Matt Keneson has already beaten me to it, I will go with Here We Come a Wassailing (both will be in my set this festival).
If we were to buy you a drink (I'm not saying we will but…) at the festival what would you want?
If I'm driving an earl grey tea. If I'm not whisky and soda please.
Where can we find you? (social media/you tube / band camp/ gigs etc)
https://www.youtube.com/watch?v=9Vx66CI-pic
Twitter: @el1jea
And, of course, Melton Folk Club every Wednesday night!