Impressive singer/songwriter and very popular on the Leicestershire folk scene
I love punk: my all-time favourite band is Rancid and the thing I love the most about them is the way that their friendship comes across as so genuine. Noel Gallagher is my favourite songwriter and Liam is my favourite frontman. My favourite music video is Oasis' D'You Know What I Mean?  I love the apocalyptic feel to it! Also, I know everyone says this, but Nirvana's Unplugged in New York is my favourite acoustic album: it's recognisably rock music, but so laid back and pretty.
I think Johnny Cash is great because he had so many idiosyncrasies in his style. I love blues as well, but a lot of this comes from the mythology surrounding the music – the story of selling your soul at the crossroads is one of my favourites. I think mythology is a really important element of music – sometimes, the imagery of a song will be the first thing that draws me in, even before the musical elements. I don't think that music is just sound.
Folk Trail Feature on Jane Orton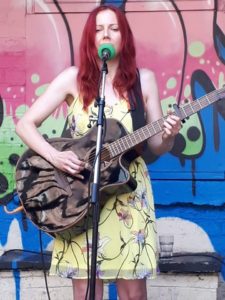 What's your name and where are you from?
Jane Orton – and I'm from Leicestershire
What is your local folk club or place you regularly perform?
The Soundhouse in Leicester or other Leicester venues
How did you get into folk music?
By learning the guitar!
Who is/are your folk and/or musical inspiration?
Rancid for the way their friendship is obvious in their performances; Liam Gallagher for his stage presence and Luciano Pavarotti for the sheer beauty of his voice
What is your favourite song/piece from your set?
Maybe Lullabies as it's a song I wrote about touring America on a motorcycle
Who are you most looking forward to seeing at this year's folk festival?
Eddy Hall – he's so fun to watch!
Tell us about the best gig you have ever been to?
Kasabian at the KP stadium – the sense of community was incredible
Choose a Christmas song?
White Christmas every time
If we were to buy you a drink (I'm not saying we will but…) at the festival what would you want?
Beer please
Where can we find you? (social media/you tube / band camp/ gigs etc)
Website- www.janeortonuk.com
Facebook- @janeortonuk
Twitter- @janeortonuk
Instagram- @janeortonuk
https://www.facebook.com/Janeortonuk/