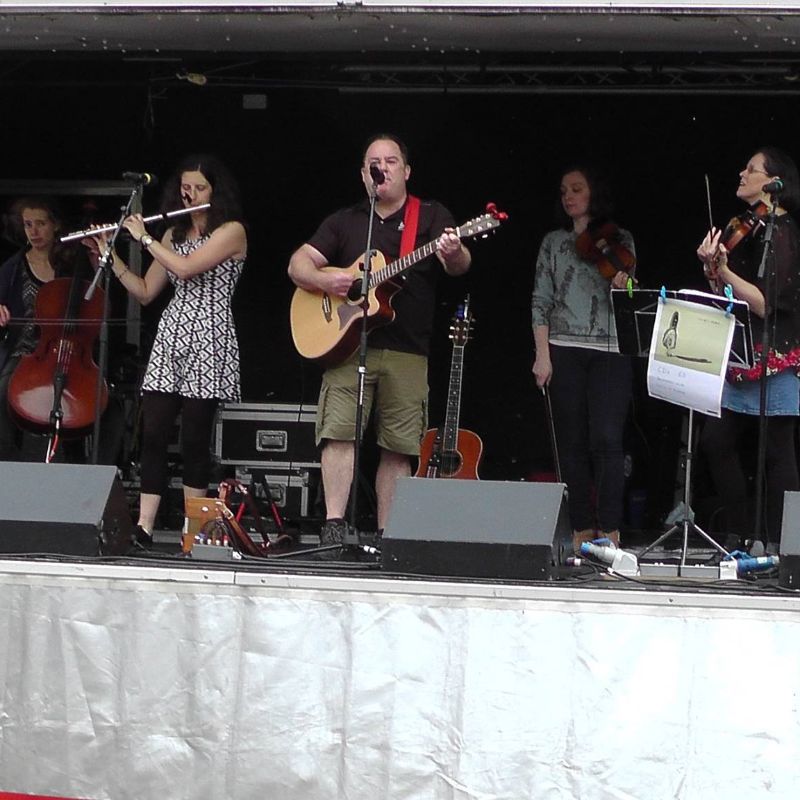 Contemporary Folk Band.
Jack's Rake
The band was formed by four climbing friends who had travelled up to Langdale to climb on Raven Crag, but got rained off so did a quick scramble up Pavey Ark and spent the rest of the day in the Sticklebarn Tavern where the local folk festival was taking place.
At around 11pm the four, in the true spirit of punk rock, and drunkenness, decided that they could do this and Jack's Rake was born.
Over the next decade the band grew in experience and ability and several line up changes, most of them amicable, took place leading to the Jack's Rake of today which features Mark Pugh, Catherine Pugh, Hannah Smalley, Rob Whale, Becky Ball, Rhiannon Flynn, Lucy Brookfield and Claire MacRory with regular appearances from various former members.
All the band members sing and, between them,  play guitars in various tunings, mandolin, mandola, bouzouki, flute, piccolo, various whistles, BC and DG melodeon, piano accordion, English concertina, bodhran, saxophone, 'cello, bass guitar  and violins; lots of violins.  Our most common line up is a five or six piece with at least two violins, flute, guitars and multiple vocals plus whatever instruments get brought along but we are happy to increase or decrease in size to fit the occasion.  We have played as a two piece with Mark on guitar and Catherine on violin and in pretty much every other combination up to a nine piece when everyone's been available!
Playing mostly traditional songs & tunes plus original compositions from Mark Pugh, Charlie Osguthorpe and Rob Whale with a few covers thrown in, they are regulars at local festivals and much sought after to play weddings and other private parties but equally enjoy bringing folk music to people who wouldn't normally seek it out and demonstrating the excitement & energy of a good folk tune, and snapping up any chance that comes along to play unplugged to an appreciative audience!